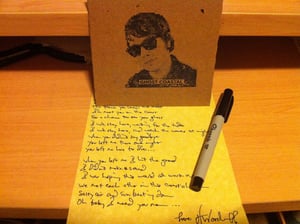 $

15.00
THIS IS THE EXACT SAME CD...but I will write out a set of lyrics for you.
These are hand written by me on a nice sheet of lyric paper, with love of course.
Once again, there are worse ways to spend your money...but this does help me create new music, and attempt to cheer people up.
I genuinely love anyone who loves me back.
SHIPS ON MONDAY SEPTEMBER 3rd.
I love you.
Love
JT Woodruff